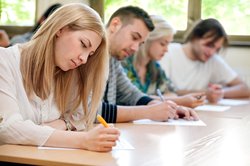 Our ProFormance Lab improves academic performance and athletic agility. Our research backed procedures improve Motivation, Interest, Drive, Focus and Attention, Balance, Coordination and Accuracy by 60% -100%. Our protocols are backed up by over 3,700 research studies.
We use computer microchip technology and brain-based exercises to improve problem-solving abilities by up to 25%. Many students find our ProFormance lab useful when preparing to take their ACT and SAT for college entrance into the best colleges. Children who don't want to take ADHD medication anymore find our ProFormance lab useful because we reverse ADHD by 80% - 100%.
Our protocols for improving working memory, longterm memory, recognition memory and multitasking performance by over 28%, are based off research NASA performed during the Apollo and Columbia missions in Spacelab and Neurolab during the "Decade of the Brain".
Our ProFormance Lab has been shown to improve athletic agility by accelerating fine motor skill learning by up to 60%, increasing endurance by 10-20%, increasing the amount of power your muscles produce by 20%, increasing leg muscle endurance by 10% and improving balance by 40-60%
We use "State of the Art" 21st Century technology. Our protocols are painless.
REAL PEOPLE/REAL RESULTS
What Our Patients Are Saying About Our ProFormance Lab
I was always dyslexic and struggled through school, until I did the ProFormance lab. I don't struggle anymore and my grades went up. I'm in regular classes NOW!! - Scott P.
Was getting really bad grades up to my sophomore year in high school. They said I had ADHD. A friend from school showed me a flier with this stuff about this 8 week lab that was proven to help kids with ADHD problems. He said it helped him with his ADHD and he no longer has to take that medicine and gets As and Bs. I hated how the medication made me feel, so I talked to my parents. 8 weeks later, no more medication and my grades are soaring. I'm able to focus and concentrate and get things done!! Thanks a ton - Becky L.
Did the 8 week lab, my athletic skills along with my school grades soared by the time I was finished. I was worried that I wouldn't get that scholarship because of my grades. They told me my grades and athletic skills would improve. They were right! - Dave B.
I'm in the Honors program at school and took my ACT and bombed it ROYALLY!! I did 8 weeks in the ProFormance lab and re-took my ACT and now I've been accepted into an even better college than I initially wanted. It was worth every penny! - Brenda C.
I was diagnosed with ADHD but still struggled with focus and attention even after taking the medication. I hated the side effects of the meds. Then a classmate told me about the ProFormance lab. Did it. No more problems with focus and attention! I feel invincible!! - Boyd M